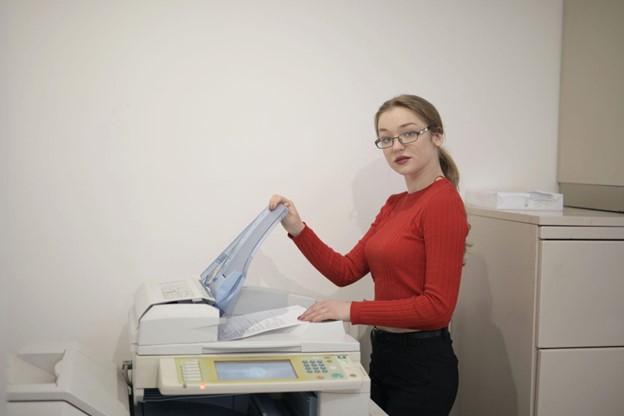 An office without good printing arrangements is a challenging and less efficient working environment. If you want smooth printing operations in your organisation or office, multifunctional printers are the right choice. They can work wonders for your office by saving space, cutting costs, and boosting your team's efficiency.
Multifunctional printers can scan, copy, print, edit, and fax documents. This means you'll have everything you need in one compact unit. This can reduce the hassle, and you can enjoy the simplicity of having all essential functions at your fingertips!
Here are some of the amazing benefits of multifunctional printers
Ease of operation
Your team will find it effortless to adapt to a multipurpose printer with its user-friendly interfaces and software integration. You can easily connect it to your office network, cloud storage, and email systems. It makes it easy to meet professional printing requirements at both individual and collaborative levels.
Space-saving
Multifunctional printers combine multiple functions into a single device that saves valuable office space. Also, one device for multi-tasks means reduces the number of power cables and outlets required, leading to a cleaner and less tangled setup in the office.
Manageable document format
You can easily manage and sort your documents with multifunctional printers. They can scan documents and turn them into editable text using OCR (Optical Character Recognition). Organising and accessing files becomes easier. In other words, you won't waste time searching for lost papers and quickly find them.
Excellent end-results
Multifunctional printers offer a range of impressive features, such as duplex printing, automatic document feeders, and advanced scanning capabilities. These printers use modern technology to create excellent print, scan, and copy results, making documents look professional.
More capacity
In today's tech world, multifunctional printers can produce many pages, ranging from hundreds to thousands, depending on the model. The seamless blend of superior print quality, printing speed, and ample capacity empowers your business to achieve self-sufficiency. Now, you can handle large-scale printing projects in-house whenever the need arises.
Easy maintenance
Maintaining one device is easier and less time-consuming than managing multiple machines. It lowers the chances of technical issues arising from compatibility problems between different devices. Moreover, you'd only need to keep an eye on order supplies for one printer. This will reduce the chances of running out of essential materials unexpectedly.
Resourceful
Your multifunctional printer will save energy through sleep mode, quick startup, duplex printing, LED technology, and Energy Star certification. These energy-efficient features not only reduce power consumption but also save on paper usage. So, it is an eco-friendly and cost-effective option for your office.
Final Thoughts
Multifunctional printers are undoubtedly an ideal choice to enhance the flow of operations at your workplace. Their compact design saves office space, while their cost-effectiveness makes them a valuable investment. With advanced features, top-quality output, and easy maintenance, these devices prove to be a great asset. Additionally, these printers use less energy, which helps make printing more sustainable. So, you must upgrade your office with a multifunctional printer and experience exceptional efficiency.