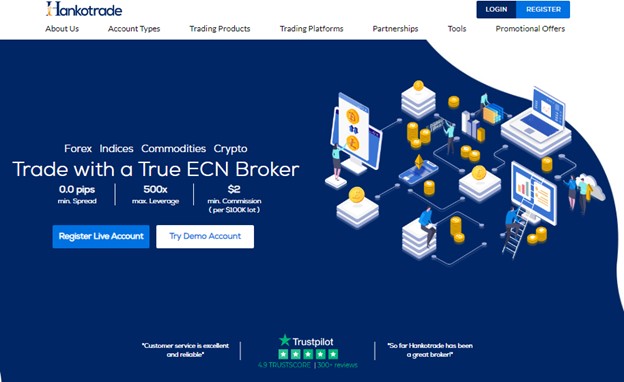 Hankotrade Review
Hankotrade is a regulated brokerage firm based in Dubai, UAE, providing trading services to traders since 2018. Hankotrade has accomplished significant milestones as a trading broker, making it a reputable name in the trading industry.
In this Hankotrade review article, we will explore some of the key features of Hankotrade that make it stand out from other brokers.
Is Hankotrade the Lowest Spread Broker in The Market?

Hankotrade is known for its tight spreads and is considered a zero-spread Forex broker by many traders. Although spread values vary in different accounts, they are still significantly low compared to the market.
Spread values for Hankotrade are classified as follows: starting from 0.7 pips in the STP account and as low as 0.0 pips in ECN and ECN Plus accounts.
Is Hankotrade Broker Regulated in The USA?
Hankotrade is regulated by the Financial Services Authority of Seychelles (FSA), ensuring the broker operates transparently and follows all legal formalities. Although Hankotrade is not currently regulated in the US region, traders from the USA can confidently use Hankotrade broker without hesitation, as the strict regulations and oversight of the FSA protect their trading activities.
What Is the Minimum Deposit Required by Hankotrade to Open an Account?
Hankotrade requires a minimum deposit of $10 to open an account. Traders can open a basic STP account with this minimal investment and enjoy the services of Hankotrade broker. However, this price may increase as users update their account type to advance accounts like ECN and ECN Plus.
What is the 'Introducing Forex Broker' Program of Hankotrade?
Hankotrade's Introducing Forex Broker Program allows individuals or organizations to earn commissions by referring new clients to the broker. Traders can invite other traders via an affiliate link and earn up to 40% profit when the referred client wins a trade. The program is open to anyone who wishes to participate, and there are no upfront fees or charges to join.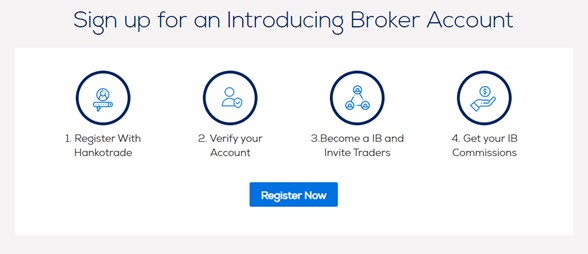 Does Hankotrade Provide a Swap-Free Account for Muslim Traders?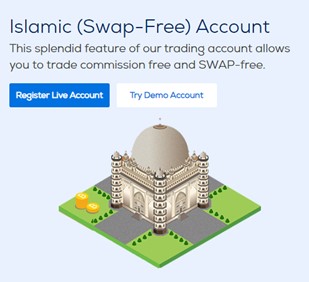 Hankotrade has created an Islamic account that is Shariah-compliant for Muslim traders who cannot trade using a commission model because of their beliefs. This special account allows Muslim traders to participate in the financial markets without compromising their faith.
Does Hankotrade Provide a Sign-Up Bonus?

Yes, Hankotrade provides a 100% sign-up bonus. Traders must deposit a minimum of $100 into their trading accounts, and the same amount is credited to the trader's account as a sign-up bonus reward.
Negative Balance Protection
Hankotrade is a secure trading platform that ensures its client's investments are safe from unfortunate circumstances. Every account type offered by Hankotrade comes with a negative balance protection feature, which helps save traders' investments from any potential trading disaster that can occur due to certain economic conditions or mistakes made by traders.
Contacting Hankotrade Broker
Hankotrade offers multiple ways for traders to contact their brokers. These options include:
1.    Live Chat Assistance
Traders can access this option by navigating to the homepage. A message icon will appear on the bottom right of the homepage, and they can chat with Hankotrade's assistant for quick responses.
2.    Contact Form
Hankotrade provides a contact form on their contact page for more detailed queries requiring special attention. Users can fill out this form with their contact details and queries, and an appropriate response will be provided soon.
Trading Terminals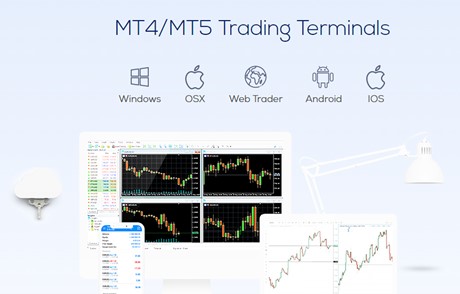 Hankotrade offers two options for trading terminals – MetaTrader4 and MetaTrader5. It is best to choose a trading terminal according to one's needs and experience. For those unsure which trading terminal to choose, Hankotrade offers demo accounts to try out first and make an informed decision.
Reliability of Hankotrade
Proof of Withdrawals
Hankotrade is a legit broker and endeavors to process withdrawal requests at its earliest. The following are the screenshots of withdrawal update shared by real clients of Hankotrade: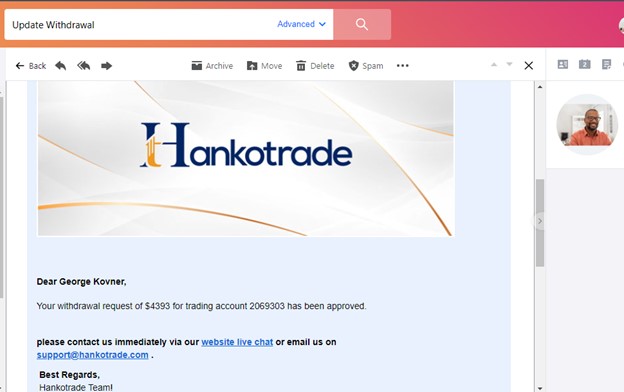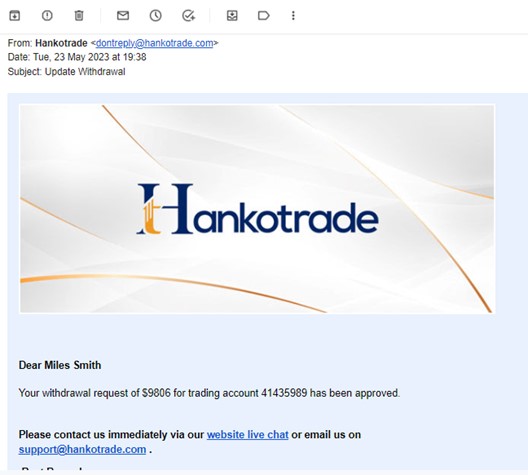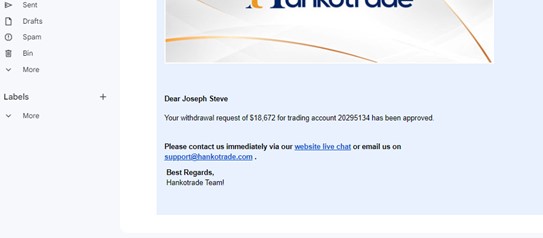 Overall, Hankotrade is a well-received trading broker among traders. The platform has received an overwhelmingly positive rating on Trustpilot.com, with 4.8 stars and more than 500 reviews appreciating the broker's remarkable services. Here are some of the top Hankotrade reviews on different platforms:
Customer Testimonials on Sitejabber.com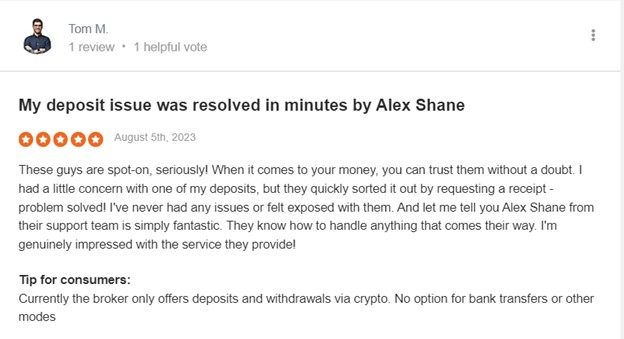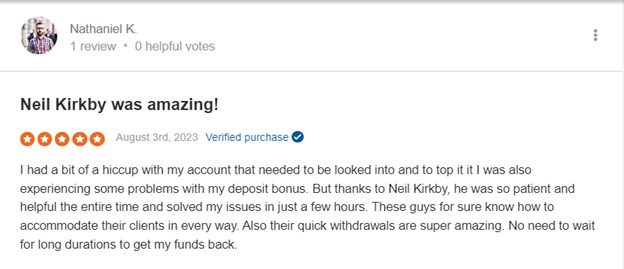 Customer Testimonials on Brokersview.com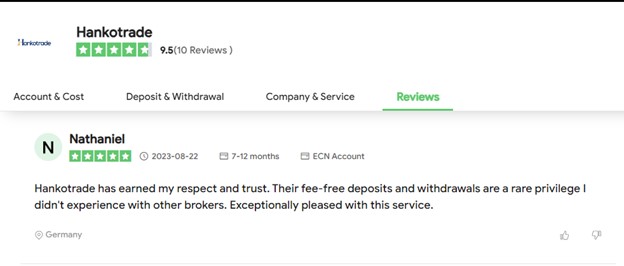 Customer Testimonials on Brokerxplorer.com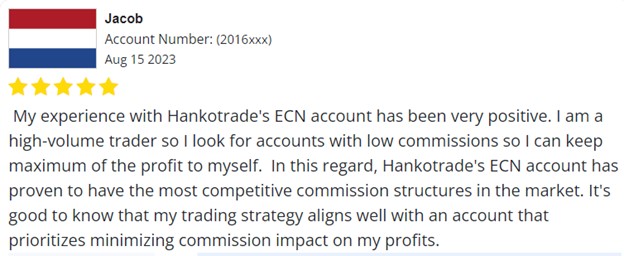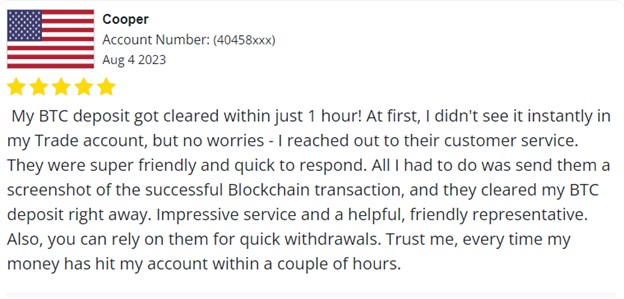 Customer Testimonials on Slashdot.org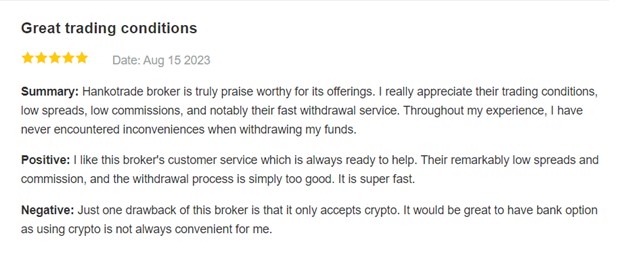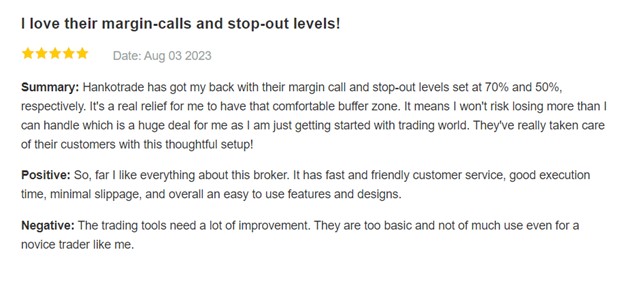 Customer Testimonials on FX-List.com



Our Overall Hankotrade Review: Is Hankotrade a Worthy Choice for You?
Hankotrade is a reliable and secure online trading platform that offers traders a wide range of investment opportunities. The broker's negative balance protection feature ensures that traders' investments are safe from unexpected market downturns or human error. With verified users, various trading terminals, and multiple ways to contact customer support, Hankotrade offers a convenient and hassle-free trading experience.
If you're looking for a trusted broker to start your trading journey, Hankotrade is worth considering. With a strong reputation and positive user reviews, Hankotrade is a great choice for novice and experienced traders.
So why not open an account today and start your trading journey with Hankotrade?